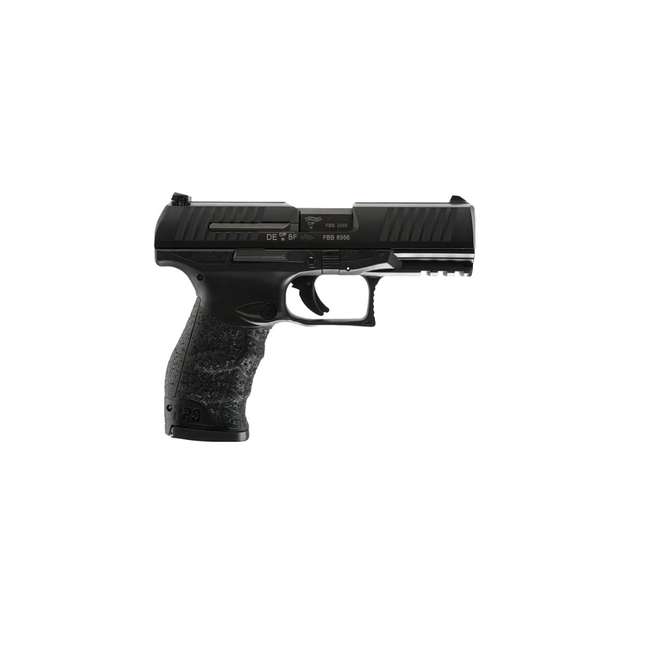 The Walther PPQ .45 is a semi-automatic pistol introduced in 2012 as part of the Walther PPQ series. PPQ stands for "Police Pistol Quick Defense". The German manufacturer Walter Arms designed it with input from law enforcement agencies and professional shooters to offer accuracy, reliability, and ergonomics. The PPQ .45 is the first Walther handgun chambered in .45 ACP, a popular calibre for personal defence and competition shooting.
Behaviour & construction
Invented by the talented folks at Walther Arms, the PPQ .45 boasted impressive features like the smooth trigger pull, quick target acquisition, and ergonomic design. It has a steel slide, polymer frame, and a "Tenifer" finish, which makes it durable. It also has a loaded chamber indicator, so you can tell if there's a round in the chamber. The gun automatically loads the next round after firing, allowing rapid firing. Its trigger system has both double-action and single-action modes, and it has a reversible magazine release button. The adjustable white dot sights are dovetailed into the slide, and the frame has a Picatinny rail for attaching lights or lasers.
Fields of use
The Walther PPQ .45 is a versatile handgun suitable for personal defence, competition, and target shooting. The gun's accuracy, reliability, and durability make it popular among enthusiasts. Law enforcement officers and civilians commonly use it as a concealed carry weapon and may also use it for home defence.
Interesting facts
The gun's design and performance have earned it several awards, including the "Handgun of the Year" award from the National Rifle Association in 2013. It has also been used in some high-profile shooting competitions, such as the International Defensive Pistol Association (IDPA) World Championship and the Steel Challenge World Speed Shooting Championship.