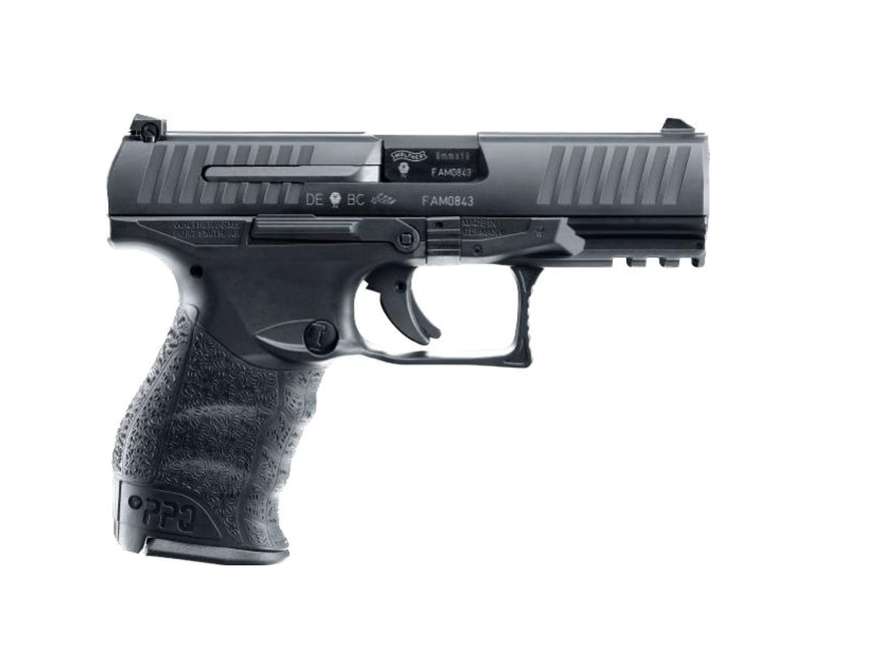 The Walther PPQ is a sleek and stylish pistol designed for law enforcement, focusing on ergonomic design, quick response and rapid firing. Walther Arms, a renowned gun manufacturer, introduced the PPQ in 2011. It is the successor to the popular PPK handgun from the 1930s, famously used by James Bond.
PPQ stands for "Police Pistol Quick Defense", and PPK for "Polizei Pistole Kriminalmodell," which translates to "Police Pistol Detective Model". One of the standout features is its trigger, often praised as one of the best on the market. Some reviewers even consider the PPQ's trigger better than a Glock's.
Behaviour & construction
The Walther PPQ is a 9mm semi-automatic handgun. It has a two-stage striker-fired trigger that is incredibly responsive and easy to control. With just a short 0.4-inch pull, you can stay right on target while firing off rounds rapidly. The pistol has a Tenifer finish, cross-directional grip texturing, and three adjustable grip backstraps.
It has a 15-round magazine capacity and is compatible with aftermarket magazines holding up to 19 rounds. The PPQ has a Picatinny rail for lights or lasers, ambidextrous slide release, trigger safety, firing pin safety, and drop safety. It uses a recoil-operated, locked-breech design with a tilting barrel locking system. Finally, the pistol has fixed white dot front and two-dot rear sights, and aftermarket sights are available.
Fields of use
The PPQ handgun is a versatile and high-quality choice for various applications. With exceptional features, it is an excellent option for shooters of all levels, including self-defence, target shooting, and more. The PPQ is highly regarded by law enforcement, military personnel, and civilians. Thanks to its ergonomic design and exceptional accuracy, police agencies and military units worldwide choose the PPQ as a sidearm.
Interesting facts
Walther Arms introduced the PPQ as a successor to the popular PPK handgun, used as a concealed carry handgun for detectives and plainclothes police officers. The question on many people's minds was whether or not the PPQ lives up to the high standards set by the PPK and whether it meets the demands of the police officers for whom it was designed. The PPQ became successful in all the directions.
The PPK, known for its slim design and use by Agent 007 in the James Bond films, has been replaced in recent movies with the modern polymer Walther P99. However, the classic PPK is set to make a comeback in an upcoming Bond film.