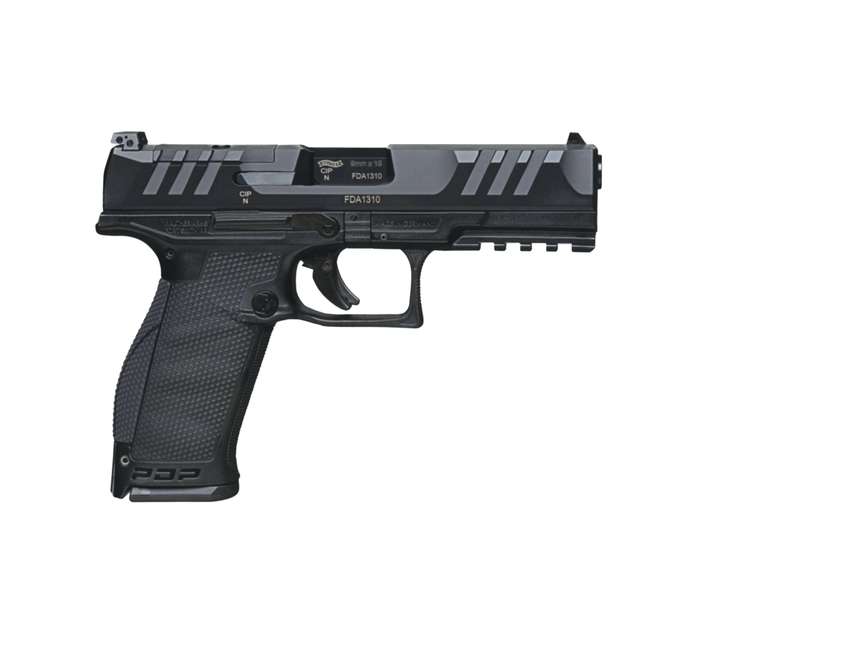 Walther Arms, a renowned German firearms manufacturer with over 100 years of experience, introduced the Walther PDP in 2021. The company developed the pistol to meet the demand for compact, lightweight carry guns with a slim profile and low-profile sights, which provide a good balance of concealability, firepower, and accuracy. Constructed of high-quality materials, the PDP pistol is designed to be reliable and durable, with a long service life, demonstrating Walther Arms' commitment to innovation and quality.
Behaviour & construction
The PDP is a striker-fired polymer frame pistol chambered in 9mm with a 15-round magazine capacity. What sets it apart from the competition is its pre-cocked striker system allowing for a shorter and lighter trigger pull, resulting in a faster and more accurate shot. The trigger safety ensures that the gun will not fire unless the trigger is fully depressed, providing the user with an added layer of safety. The ambidextrous slide stop makes reloading a breeze, no matter which hand the shooter favours.
Fields of use
The Walther PDP is a handgun designed for personal protection and concealed carry. It is intended for use by those who want reliable and effective firearm self-defence in various situations. The gun is compact and lightweight, making it well-suited for law enforcement officers, military personnel, and civilians who need a firearm for personal protection. It is also suitable for recreational and competitive shooters who want a high-quality handgun for target shooting and other shooting sports.
Interesting facts
Walther Arms is a well-known and respected manufacturer with a long history of making firearms for military, law enforcement, and civilian use. Founded in 1886 in Germany by Carl Walther has been in continuous operation since then. Their high-quality weapons are known for accuracy, reliability, and durability.
Walther Arms is perhaps best known for producing the P38, a semi-automatic handgun used by the German military during World War II. The P38 was a revolutionary design ahead of its time and served as the basis for many other handgun designs. In the post-war period, Walther continued to innovate and produce a wide range of firearms. One is the PPK, a popular concealable handgun that many police and military organizations use worldwide.
Walther has also pioneered polymer frame handguns, known for their lightweight and durability. The company's first polymer frame handgun, the P88, was introduced in 1988 and was followed by many other models over the years.