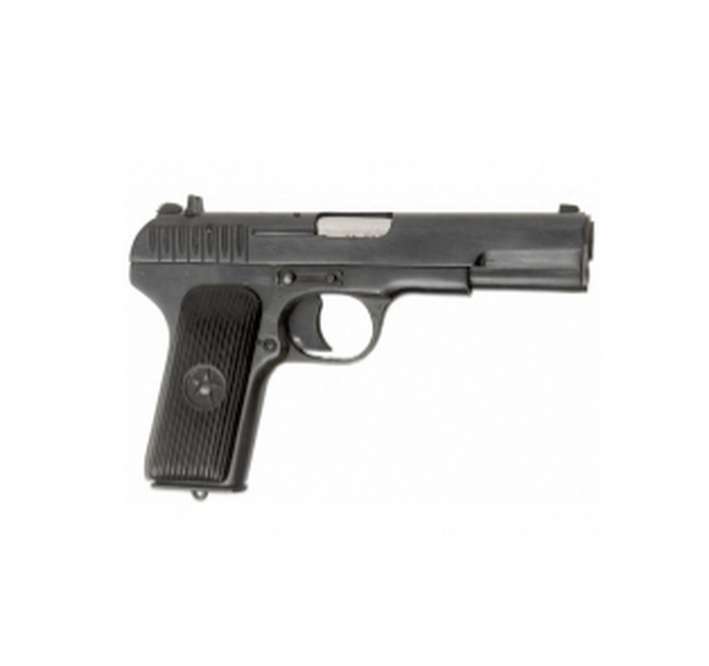 Fedor Tokarev, the brilliant Soviet firearm designer, created a legendary handgun called the Tokarev Pistol 9mm or TT-33. He designed it for the Soviet military and police forces as a service pistol. It quickly gained popularity and became one of the most famous guns of the 20th century. Its excellent design and high-quality construction made it a favourite of gun enthusiasts worldwide. TT-33 is the contraction for "Tula Tokarev 1933". It refers to the year of its adoption by the Soviet military and the location of the manufacturer Tula Arms Plantwas.
Behaviour & construction
This pistol is known for its simple blowback operation and excellent construction. The Tokarev is crafted with a sturdy steel frame and slide and a classic wooden grip that gives it a sleek and classic look. It has a single-action trigger provides excellent accuracy and a magazine capacity of eight rounds. The Tokarev's 9x18mm Makarov cartridge makes it an effective and powerful weapon, perfect for use on the battlefield or the streets.
Fields of use
The Soviet Union and its satellite states widely used TT-33 during the Cold War. It also saw action in various conflicts, such as the Korean War and the Vietnam War. Several countries, including China and North Korea, imported and used the Tokarev in their military and police forces.