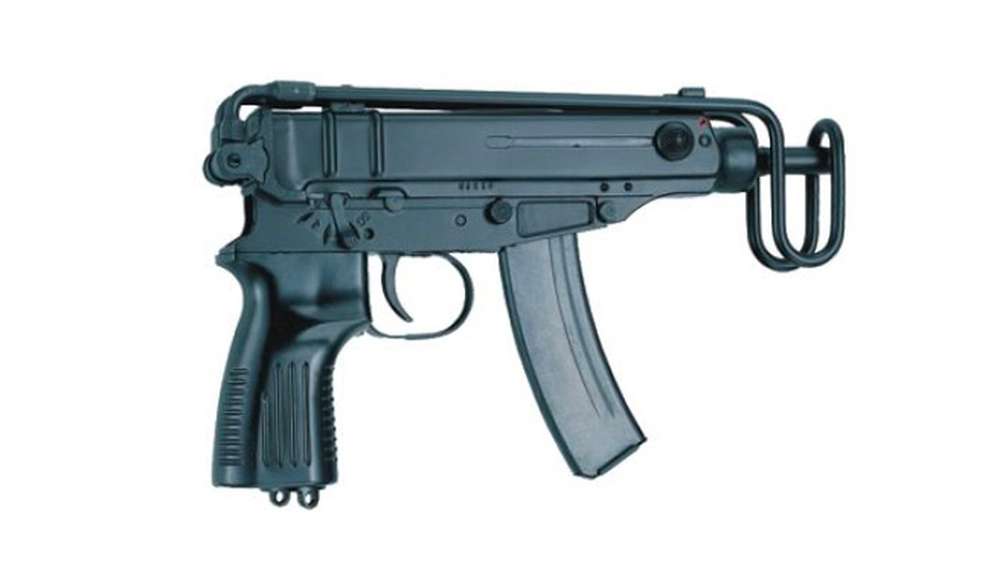 Miroslav Rybář designed the Sa vz. 61 Scorpion as a compact and lightweight defence weapon for non-infantry units such as vehicle crews, engineers, and special forces. The Česká zbrojovka arms factory produced the weapon in the late 1950s to replace the heavier and bulkier submachine guns. The original design of the Scorpion was influenced by the German MP40, used by the Czechoslovakian resistance during WWII. The Czechoslovakian military and police adopted the Scorpion in 1961, hence the designation "Sa vz. 61" (Samopal vzor 61, which means "submachine gun model 1961" in Czech).
Behaviour & construction
The Sa vz. 61 Scorpion is primarily an automatic weapon, it can fire multiple rounds with a single trigger pull, around 800 rounds per minute. There are also semiautomatic variants for civilian use and target shooting, designed to fire only one round per trigger pull.
The gun is made from metal and plastic parts, featuring a simple blowback action. It is designed to fire the 7.65x17mm Browning cartridge, also known as the .32 ACP. The detachable box magazine with a capacity of 20 rounds can be replaced quickly when empty. With a folding stock for easy storage and transport and a removable suppressor for reduced noise and flash, the Scorpion's design is reliable and easy to use. It is well suited for close-quarters combat and versatile enough to handle various situations.
Fields of use
Czechoslovakian military and police used the Sa vz. 61 Scorpion, and it was also exported to other countries for use by various military and law enforcement units worldwide. Organizations such as the East German and Polish militaries, the Cuban Armed Forces, and the Nicaraguan Sandinista National Liberation Front have adopted this weapon. Some regular soldiers used it as a secondary weapon or as a sidearm.
In the 1970s and 1980s, civilians in the US became interested in the Scorpion and could purchase the semi-automatic version through the Civilian Marksmanship Program. Some civilian shooting clubs and competition shooters also used it. Nowadays, most military and law enforcement organizations have phased out the use of the Scorpion in favour of more modern weapons. However, it is still in use in some parts of the world and is prized by collectors for its compact size and unique design.
Interesting facts
The Sa vz. 61 Scorpion is a popular prop in the entertainment industry due to its compact size and unique design. It has been used in various action, war, and crime-related productions.
You can see this iconic gun in several actions and war movies and TV shows, including Heat, The Departed, The Godfather, Heat, Shooter, The Peacemaker, From Paris with Love, John Wick, Green Street Hooligans, La Haine, Predator 2, Lock Up, Air America and many others.
The Scorpion has been featured in many video games, including Call of Duty, Battlefield, Far Cry, Halo, Gears of War, Doom, Wolfenstein, Half-Life, Counter-Strike and more.