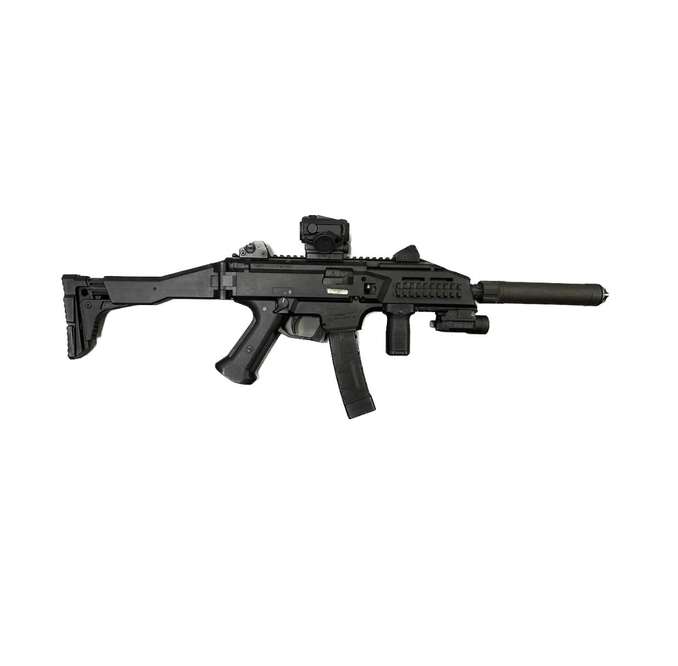 In 2008, Czech firearms manufacturer CZUB developed the modern and innovative submachine gun, the CZ Scorpion EVO. The chief engineer, Miroslav Kyša, designed it in response to the changing needs of the Czech military and law enforcement agencies for a new submachine gun. They required a reliable, compact, lightweight weapon that could be effectively used in various situations, including close-quarters combat, urban operations, and special operations.
Behaviour & construction
Scorpion EVO is a blowback-operated weapon that fires from a closed bolt, chambered in 9mm Luger and can be fed from a 20 or 30-round detachable magazine. Its simple and reliable design makes it easy to maintain. The polymer frame and metal upper receiver keep the weight down to 2.5 kg. The foldable stock allows for easy transport and storage, and the Picatinny rail system enables the attachment of various accessories, such as optics and lasers.
The gun has a semi-automatic firing mode, which allows firing one round with each pull of the trigger. The shooter can switch to automatic mode to fire multiple rounds with a single pull of the trigger with a rate of fire of 850 rounds per minute. Scorpion EVO features several safety mechanisms to prevent accidental discharges, such as a manual safety lever, magazine safety disconnect and firing pin block.
Fields of use
Military and law enforcement agencies, special forces and private security firms widely use Scorpion EVO. Not only in the Czech Republic but many other countries like Poland, Thailand, the US, and Mexico adopted it. Its compact and lightweight design, reliability and ease of use make it a preferred choice for various special operations. Scorpion EVO has also gained popularity among civilians as a reliable and accurate weapon for personal defence and as a sport weapon in shooting clubs. In addition to its use as a submachine gun, it has also been adapted as a Personal Defense Weapon (PDW) and a semi-automatic pistol.
Interesting facts
Scorpion EVO is a versatile weapon with several different variants, each designed for specific use cases. The CZ Scorpion EVO 3 A1 is a semi-automatic version intended for civilian use, while the CZ Scorpion EVO 3 S1 is designed for law enforcement. Known for its durability, many examples of the Scorpion EVO have proven their endurance by surviving thousands of rounds of firing without any issues.
It is a favourite gun among filmmakers and game developers. You can see Scorpion EVO in movies such as John Wick 3, The Accountant, The Bourne Legacy, The Equalizer, The Dark Knight Rises, The A-Team, The Mechanic, The Grey, The Last Stand and The Raid 2. Videogames featuring it are Tom Clancy's series, Rainbow Six Siege, Call of Duty: Black Ops Cold War, Battlefield 4, ArmA 3, Insurgency, Squad, and Escape from Tarkov.