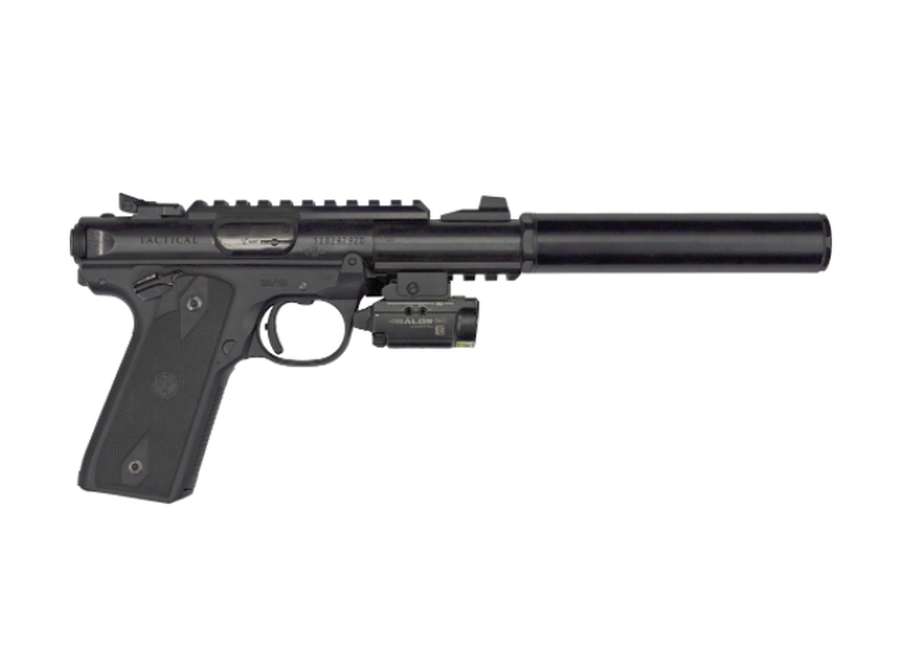 The Ruger Mark IV Tactical is a .22 Long Rifle (LR) pistol made by the American firearms company Sturm, Ruger & Co. It's a reliable, accurate, and versatile handgun many shooters worldwide enjoy. The Ruger Mark IV Tactical is well-built and durable, designed to last many years with proper care and maintenance. With an unloaded weight of 900 g (2 lb), it is lightweight and easy to handle, making it a popular choice for target shooting, plinking, and small game hunting.
The Mark IV Tactical is a variant of the popular Ruger Mark IV series of pistols designed for target shooting and plinking. Sturm, Ruger & Co first released the Ruger Mark IV series in 2016. The design of the Mark IV series is an evolution of the previous Mark III series introduced in the late 1970s. The Ruger Mark IV series of pistols is today considered one of the world's most popular rimfire handguns.
Behaviour & construction
The Ruger Mark IV Tactical is a semi-automatic pistol chambered in .22 Long Rifle (LR) that has an 11 cm (4,4 in) bull barrel with an overall length of 21,5 cm (8,5 in). The pistol boasts an anodized aluminium receiver and a black anodized finish on the barrel and other parts. The receiver also features a Picatinny rail for attaching various accessories like optics, lights, and lasers. The barrel is also threaded for attaching suppressors or other muzzle devices.
The pistol has a manual thumb safety, magazine disconnect safety, an adjustable rear sight, and a fixed front sight. It is blowback-operated and uses a one-button takedown for easy field stripping and cleaning. The trigger is single-action, and the hammer must be cocked before firing.
Fields of use
This versatile pistol is well-suited for various uses, with its bull barrel and adjustable rear sight making it highly accurate and popular among target and competitive shooters. Its lightweight and easy-to-use design make it great for plinking and small game hunting. The Picatinny rail and threaded barrel also make it suitable for law enforcement, military personnel, and personal defence training.
Due to its .22 LR chambering, it is ideal for shooters of all skill levels, particularly beginners and youth. The low-recoiling .22 LR cartridge makes it easy to shoot and control and is also relatively low-cost, making it an affordable option for frequent practice and training. It is popular among recreational, competitive shooters, law enforcement and military personnel, and those interested in personal defence. The pistol is widely available in the United States and is exported to other countries. Its reliability, durability and well-known brand make it a favourite among shooters worldwide.
Interesting facts
The Mark IV series introduces a simple, one-button takedown for quick and easy field-stripping and cleaning, a feature that wasn't available in the Mark III series. The Mark IV Tactical is part of a larger line of Mark IV firearms, including the standard Mark IV, the Hunter, the Target, the Competition, and the 22/45 Lite. In 2018, Ruger added a new model to the Mark IV series, which has a built-in grip safety, called the Mark IV 22/45 Lite with a manual safety.
The Mark IV Tactical is a single-action pistol, meaning the hammer must be cocked manually before the gun can be fired. The Mark IV Tactical is built with a bull barrel known for its accuracy; this kind of barrel is thicker than a standard barrel and heavier. This makes the gun more stable when shooting and can increase accuracy. The Picatinny rail allows for the attachment of different sights, lasers or flashlights. This increases the weapon's versatility and can adapt to different scenarios. The .22 LR cartridge is one of the most popular and most used cartridges in the world, and it's used for hunting, target shooting, self-defence and training. The .22 LR cartridge is relatively inexpensive and low-recoiling, making it a great option for shooting large amounts of ammunition and training new shooters.