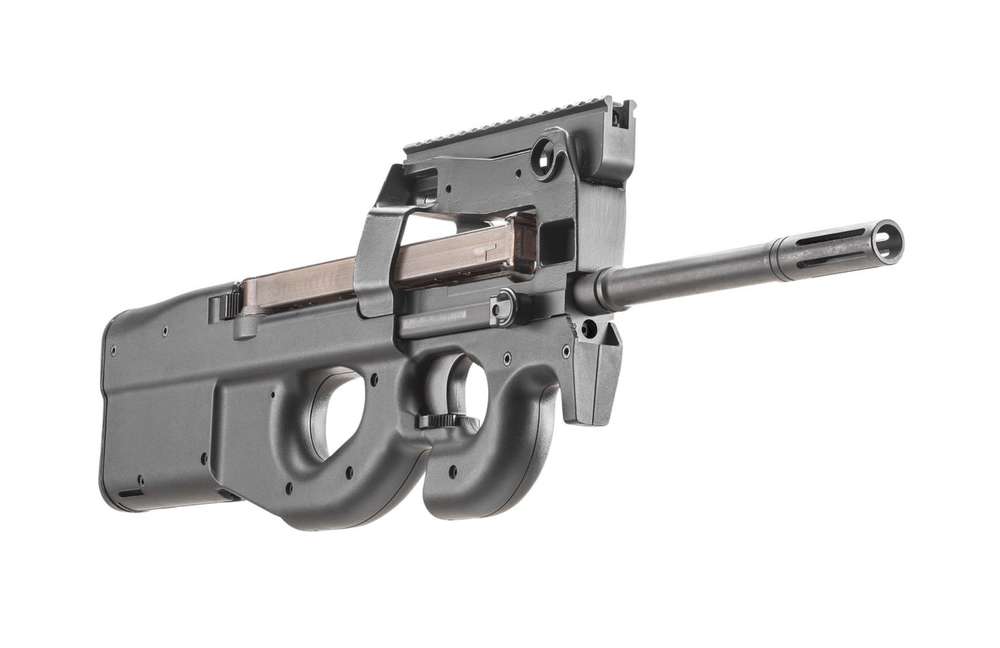 You can rent this gun and fire five shots for CZK 500 / €20.
The Belgian FN PS90 is a modern semi-automatic rifle. Its unique appearance and design have earned the nickname "The Space Gun". The arms producer Fabrique Nationale (FN) developed it in the late 1990s for personal defence. FN created two versions: P90, a fully-automatic submachine gun for military use, and PS90, a semi-automatic civilian alternative. The name is a contraction of "Project 1990".
Behaviour & construction
The PS90 has excellent shooting behaviour, with low recoil and high accuracy due to its straight blowback system. The transparent magazine allows shooters to see the remaining rounds. The cartridge 5.7x28mm was explicitly made for P90 and PS90. The gun has a bullpup design; the action is behind the trigger, making it more compact than traditional rifles. The PS90 has a relatively low sound signature compared to other rifles, thanks to the unique cartridge and suppressor-ready design.
Fields of use
Various military and law enforcement agencies worldwide have used the P90 and FN PS90. For example, the United States Secret Service adopted the P90 as a personal defence weapon for their agents. The Royal Thai Army, Mexican Federal Police, and Malaysian Armed Forces have also used this gun. Civilian shooters have found the PS90 popular for target shooting and personal defence.
Interesting facts
Its extraordinary design and capabilities have made it popular among game developers and filmmakers. You can see the weapon in movies and TV series like Stargate SG-1, Resident Evil: Retribution, 24: Live Another Day, Lucy, John Wick: Chapter 2, Tom Clancy's Rainbow Six Siege, Battlefield 4 and in games like Battlefield, Grand Theft Auto, Call of Duty: Black Ops II and Far Cry 5.