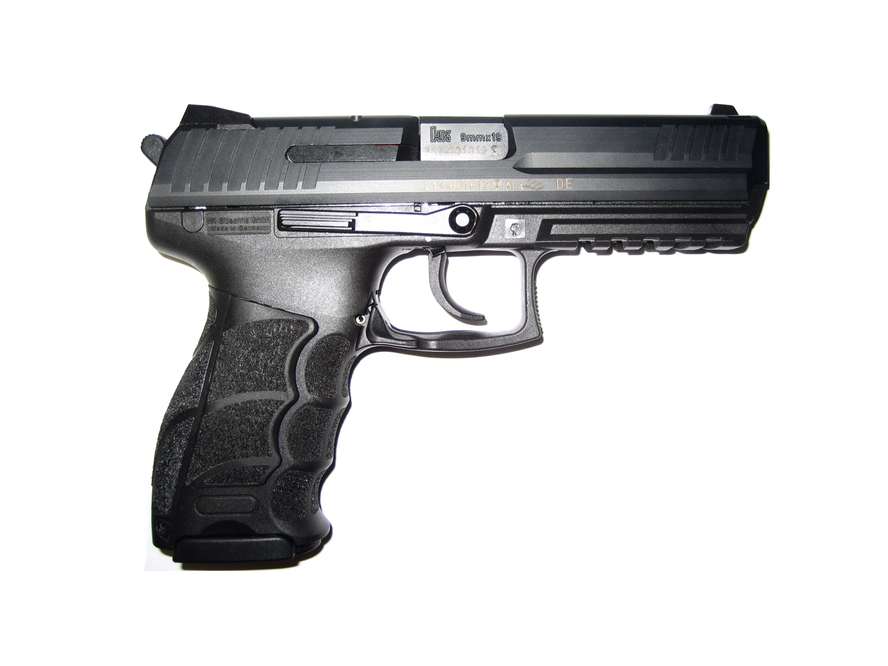 The H&K USP (Universelle Selbstladepistole or "universal self-loading pistol"), first introduced in 1993, was designed and developed by Heckler & Koch, a German firearms manufacturer. They constructed it to be a reliable and accurate semi-automatic pistol that military and law enforcement organizations worldwide could use. Heckler & Koch, known for producing high-quality and innovative weapons, intended the USP to be a versatile and modular pistol that the shooter can customize to meet specific needs and preferences. The USP meets the demands of military, law enforcement, and civilian users with its innovative design, including the "polygonal" barrel rifling, which enhances accuracy and lifespan. The weapon is available in several calibres, including .45 ACP (Automatic Colt Pistol), which you can try at our shooting range.
Behaviour & construction
Constructed with a polymer frame, stainless steel slide and barrel, the USP's modular design allows shooters to adjust the grip size and trigger pull weight to suit their preferences. Its "polygonal" barrel rifling, featuring a hexagonal pattern of grooves instead of traditional circular rifling, aims to enhance accuracy, velocity, and lifespan and reduce barrel wear. It has a smooth trigger pull and minimal recoil, making it easy to shoot accurately. The USP also has a large capacity magazine, which can hold up to 15 rounds of .45 ACP ammunition (depending on the specific model). The USP comes in several calibres, including .45 ACP, 9mm, .40 S&W, and .357 SIG, and offers full-size, compact, and tactical models. It also provides traditional double-action/single-action (DA/SA) and double-action-only (DAO) trigger configurations.
Fields of use
The USP's reliability and accuracy have made it a widely adopted choice for military and law enforcement organizations worldwide. Some of the notable users of the USP in the past include the U.S. Secret Service, the U.S. Border Patrol, and the U.S. Marine Corps. Law enforcement agencies in Germany, France, and the United Kingdom have also used the USP. The pistol became a popular choice for civilian self-defence and target shooting. It is widely available for purchase by civilians in countries where it is legal to own handguns.
Interesting facts
The USP recognizable design also appears in movies, television shows, and video games. You can see this pistol in The Bourne series, 24, Lethal Weapon: The Dark Knight, Mission: Impossible - Rogue Nation, The Equalizer, NCIS, The Purge, Supernatural, The Unit, The West Wing and The Good Shepherd.
The weapon is available for players in Call of Duty: Modern Warfare, Rainbow Six: Siege, Tom Clancy's Ghost Recon, Battlefield 1, Grand Theft Auto V, Far Cry 2, Max Payne 3, Halo: Reach and Gears of War 2.