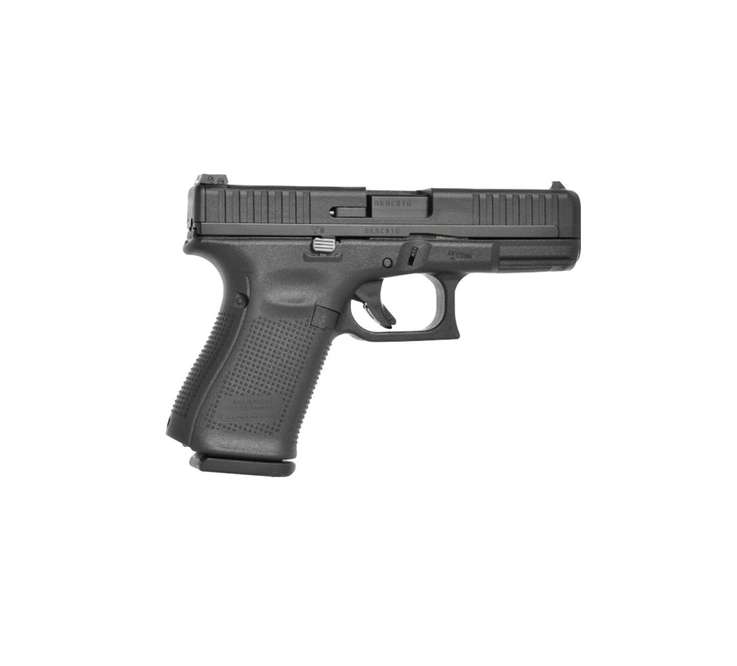 GLOCK, the well-known Austrian firearms manufacturer, offers a wide range of over 50 firearms, including handguns in various sizes, calibres, and styles. These guns are designed to meet the diverse needs of their users and offer high levels of safety, reliability, and ease of use. The Glock 44 is a compact rimfire pistol ideal for shooters looking to start or improve their shooting experience. It features a combination of polymer and steel components, giving the feel of a traditional GLOCK handgun while also being lightweight with low recoil. The G44 can be customized to fit nearly any hand size using the different backstraps included with the gun. It has been tested with various types of ammunition and has a GLOCK Marksman barrel for improved accuracy.
Behaviour & construction
The Glock 44 features a slide made from a combination of polymer and steel, which provides high stability and durability. The slide also has an ambidextrous stop lever, making it easier for left- or right-handed users to manipulate the slide. The gun is equipped with a GLOCK Marksman barrel, which has enhanced rifling for improved accuracy. It has a Safe Action system, with three different independent safety steps that disengage as the trigger is pulled and automatically reengage when the trigger is released. The G44 comes with modular beavertail backstraps, allowing the shooter to customize the grip to fit their hand size for added comfort. It has a 10-round polymer magazine with an integrated loading assist feature. The gun also has adjustable slim polymer rear sights and a mounting rail for attaching accessories. It has front serrations on the slide for improved grip, and a reversible magazine catch for left- or right-handed use. There is a ghost hole, or loaded chamber indicator, located at the rear of the barrel hood on top of the ejection port, which allows the user to see if there is a cartridge in the chamber. The G44 also has a polymer frame with a flared magazine well, which makes it easier to reload the pistol due to the larger magazine opening. This feature is useful for both beginners and experienced shooters.
Interesting facts
The Glock Model 44 is similar in size to the popular Glock 19, which is a 9mm handgun. The G44 has a hybrid slide made of steel and polymer, and it can be customized with the backstraps that are included with the gun. It is Glock's first rimfire handgun and has a 4.02-inch barrel and an overall length of 7.28 inches, which is nearly the same size as the G19. Both guns have a height of 5.04 inches, meaning that most G19 holsters will also fit the G44. However, the G44 is lighter than the G19, weighing only 15.94 ounces compared to the G19's 30 ounces. Additionally, the G44 comes with a standard 10-shot magazine, while the G19 has a 15-round magazine.