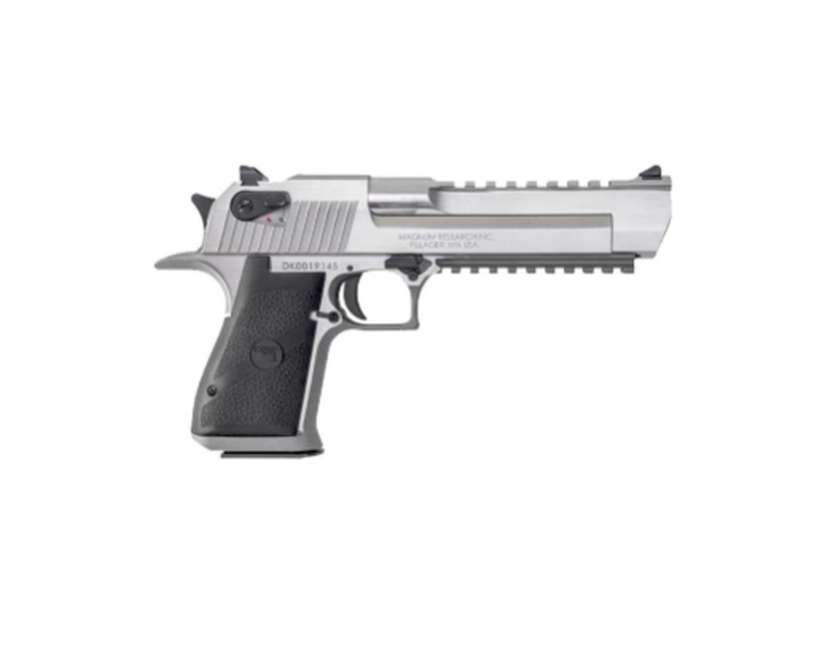 The .50 cal pistol Desert Eagle is a powerful and iconic handgun produced since the late 1980s. It was developed by Magnum Research Inc. and is known for its distinctive appearance and high stopping power. Desert Eagle is a unique and powerful handgun that has become a legend in the firearms world. Its remarkable appearance, high stopping power, and popularity in movies and video games have made it a beloved and recognizable symbol of the power of firearms.
Behaviour & construction
The Desert Eagle is a gas-operated, semi-automatic pistol that uses a rotating bolt for locking and unlocking the barrel. It has a 7-round magazine capacity is available in various finishes, including stainless steel, titanium, and gold-plated. Its trigger pull weight is about 4 pounds. One interesting fact about the Desert Eagle is that it was initially designed to fire the .357 Magnum cartridge, but later versions were also made to fire the .44 Magnum and .50 Action Express cartridges.
Fields of use
The Desert Eagle is known for its high recoil, making it challenging for some shooters to handle. However, many people enjoy the power and accuracy of the weapon, and it has become a beloved icon in the firearms world. The gun has been used by law enforcement and military personnel, hunters, and civilians who enjoy shooting sports. It has also been used in various conflicts worldwide, including the Gulf War and the Iraq War.
Interesting facts
The Desert Eagle has gained a reputation as a popular choice for Hollywood action movies and video games. This legendary weapon is seen in The Matrix, Snatch, The Boondock Saints, The Expendables, Wanted, RoboCop, John Wick: Chapter 3 – Parabellum, The Dark Knight, Scarface, Die Hard with a Vengeance and others.
Examples of video games featuring Desert Eagle are Call of Duty 4: Modern Warfare, Counter-Strike: Global Offensive, Grand Theft Auto V, Left 4 Dead 2, Battlefield 4, Rainbow Six Siege, Tom Clancy's Ghost Recon: Wildlands, Hitman: Absolution, Medal of Honor: Warfighter, Resident Evil 5.