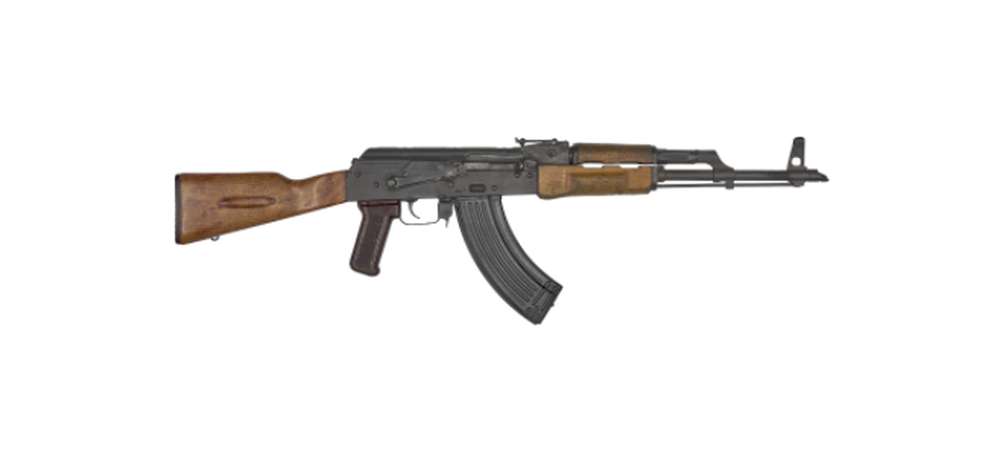 AK47, also known as the Kalashnikov, is a gas-operated, 7.62x39mm assault rifle first developed in the Soviet Union by Mikhail Kalashnikov in the late 1940s. It was officially adopted by the Soviet Armed Forces in 1949 and became the standard infantry rifle of the Soviet Union and other countries in the Warsaw Pact. The AK47 is known for its simplicity and durability, with a design that is easy to use, maintain, and repair, even in harsh conditions. It can function in extreme temperatures, dusty and sandy environments, and even when it is dirty or partially submerged in water.
This rifle is relatively cheap and easy to manufacture, making it one of the most widely produced firearms in the world, with an estimated 100 million units produced. About half of those outside Russia, many under no or expired Soviet-era license. It has been used in conflicts worldwide and has become a symbol of resistance and rebellion in many countries. Over the last seven decades, the AK47 Kalashnikov has become the iconic rifle of choice for everyone, from the Soviet military to terrorists to drug lords. While it has some limitations comparing to other modern assault rifles, it is still an effective weapon due to its reliability, ruggedness and ease of use.
Behaviour & construction
The AK47's main selling points are its simplicity and its ability to take a beating. Its simple firing mechanism means that the gun fails very rarely. The barrel is chrome-lined to improve corrosion resistance and increase the rifle's service life. The service life of Kalashnikov can be from 20 to 40 years, depending on the conditions of use.
Built around a 7.62 mm round with a muzzle velocity of 700 m/sec., it has a cyclic firing rate of 600 shots/min. It is able to both automatic and semiautomatic fire. A long-rounded box magazine holds 30 shots. The stock, pistol grip, and handguard are made of wood, which gives the gun a classic look and feel.
The AK47 has undergone several improvements and modifications over the years, resulting in several variants. Some of the most well-known variants include the AKM, featuring a lighter and more efficient design; the AK-74, using a smaller calibre cartridge; and the AK-101, chambered in the 5.56x45mm NATO cartridge. The AK-47 has inspired several imitations, knock-offs, and legal and illegal copies. It is estimated that there are hundreds of different AK-47 variants in existence.
Fields of use
The AK47 and its variants have become some of the world's most widely used and recognised firearms since their adoption in the 1950s. Military forces, paramilitary organisations, rebel groups, partisan forces, and national armies have all used them in conflicts worldwide. Special forces and other specialised units use the AK-47 and its variants as standard infantry rifles due to their effectiveness in close-quarters combat and various environments. Civilians also use them for self-defence, hunting, and recreational shooting.
Interesting facts
The Soviet government wasn't exactly generous with its royalty payment on his rifles. Mikhail Kalashnikov has confirmed that he never made a cent in royalties from his gun design. The government simply took his plans and mass-produced the rifle. As he says, Mikhail Kalashnikov is proud of having designed a workhorse rifle that served the Russian military for so long. But he is heartbroken about the gun's role in terrorist culture, as he created it only to defend his motherland's borders.
The AK-47 has been featured in numerous movies, TV shows, and other popular media and artwork forms. Often as a symbol of conflict, rebellion, or political upheaval. It has become a cultural icon and is widely recognised even by people unfamiliar with guns. You can see it in Rambo, The Bourne Supremacy, The Day of the Jackal, Die Hard, The Equalizer, The Expendables, First Blood, Lethal Weapon, Predator, Taken, The Terminator, Tombstone, Underworld, War, War Dogs, Zero Dark Thirty, Black Hawk Down, Clear and Present Danger, The Fifth Element, The Good, the Bad and the Ugly, Heat, Inglourious Basterds, The Italian Job, Mission: Impossible, The Peacemaker, Platoon, Saving Private Ryan, Shooter, The Siege, The Silencer, Training Day, Unforgiven and The Way of the Gun.
This powerful rifle is also a popular and iconic weapon in gaming. You can try it out in Battlefield, Call of Duty: Modern Warfare, Counter-Strike: Global Offensive, Far Cry, Gears of War, Grand Theft Auto V, Just Cause, Half-Life 2, Halo: Combat Evolved, Metal Gear Solid, Overwatch, Rainbow Six Siege, Tom Clancy's, Wolfenstein: The New Order and Doom.