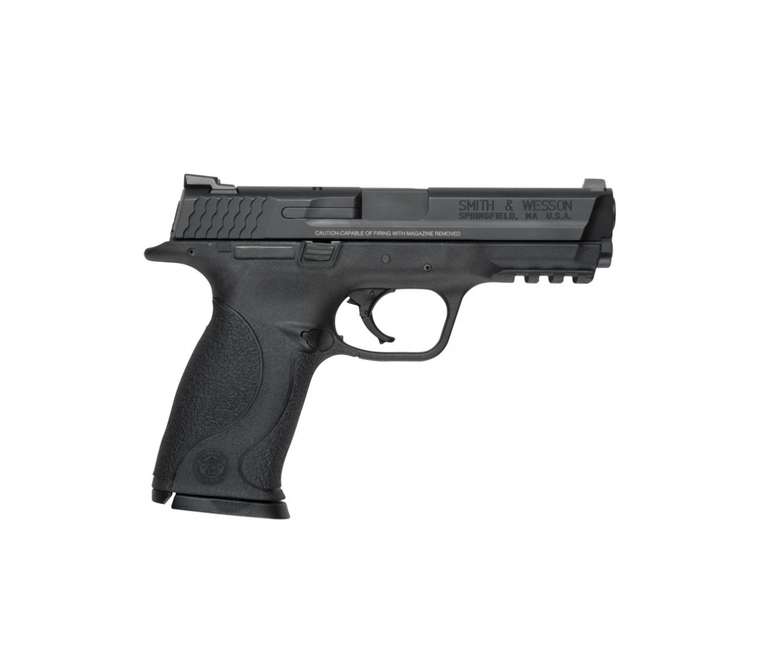 The Smith & Wesson M&P (Military & Police) 9 is a semi-automatic pistol designed for law enforcement, military, and civilian use. It was developed in response to the U.S. Military's request for a new handgun to replace the ageing Beretta M9. The M&P 9 is a full-size polymer-framed firearm chambered in 9mm, known for its durability, reliability, and accuracy.
Smith & Wesson is an American firearms manufacturer founded in 1852 by Horace Smith and Daniel B. Wesson. The company is based in Springfield, Massachusetts and has a reputation for producing high-quality firearms. MP9 was the first handgun designed by Smith & Wesson specifically for the military and law enforcement market. It has been widely tested and proven in various environments, including extreme temperatures and high levels of dust and sand.
Behaviour & construction
The M&P 9 has several features that contribute to its performance and versatility. It has a polymer frame with a stainless steel slide and a 4.25-inch barrel. The barrel is hammer-forged, a process that involves hammering a barrel blank to create the rifling, resulting in a more accurate and longer-lasting barrel than conventionally rifled barrels. The M&P 9 also has an ambidextrous slide stop, allowing it to be easily operated by left- or right-handed shooters. The grip has interchangeable palm swell inserts to accommodate different hand sizes, and the trigger has a double-action pull, requiring more force to fire the first shot but a lighter pull for subsequent shots. The M&P 9 has a 17+1 round capacity, with the option to use extended magazines with higher capacities. It has a black Melonite finish on the slide and barrel, which is a hard and corrosion-resistant coating. Since its introduction, it has undergone numerous updates and improvements, including adding manual thumb safety and the option for a thumb-activated magazine release.
Fields of use
The M&P 9 is used by a wide variety of users, including law enforcement agencies, military units, and civilians. It is popular for personal protection and target shooting and is known for its durability and reliability. It has been adopted by law enforcement agencies worldwide and has also seen use in military contexts.
Interesting facts
The M&P 9 has appeared in several movies, and T.V. shows, including John Wick, The Dark Knight, Dredd, Lone Survivor, The Purge, Fast Five, The Punisher, Blue Bloods, The Walking Dead, The Day After Tomorrow, Jurassic World, The Transporter, Taken 3., S.W.A.T., Power, Suits, Supernatural and Chicago P.D.
You can use this weapon in video games like Call of Duty: Modern Warfare, Tom Clancy's Rainbow Six Siege, Ghost Recon Wildlands, Destiny 2, Counter-Strike: Global Offensive, Gears of War 4, Shadow of the Tomb Raider, Far Cry 5 and Overwatch.