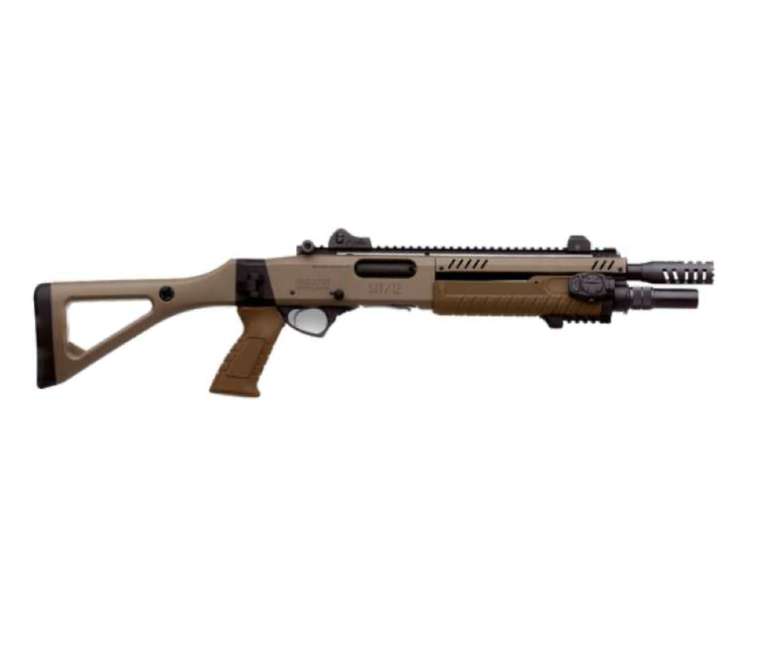 The Fabarm STF 12 Compact F.E. pump-action shotgun is a high-performing weapon for professional use built to withstand heavy use and perform in the most challenging scenarios. Fabarm, the Italian firearms company with over a century of experience producing high-quality shotguns, developed it in 2018. It is a premium weapon that offers reliability, durability, and accuracy, making it an excellent choice for professionals who need a gun to keep up with their demanding work.
Behaviour & construction
The shotgun features a compact design for easy manoeuvrability and folding stock for convenient storage. The F.E. in the name stands for "folding stock." The stock can be extended to 46.5 cm and folded to 69 cm, making it convenient to store and transport. Weighing just 3 kg the gun is easy to carry and simple to handle.
The shotgun is chambered for 12 gauge shells and has a capacity of 7+1 rounds. The chrome-lined barrel and Picatinny rail on the top of the receiver provides durability and versatility, ensuring that this weapon can withstand heavy use and can be easily customized to suit the user's needs. The barrel and receiver are made from steel, while the stock and fore-end are made from high-strength polymer. These materials provide a good balance of durability, weight and corrosion resistance
Fields of use
The Fabarm shotgun is known for its reliability and ease of use, making it an excellent option for professionals who need a weapon they can rely on in high-stress situations. It is well suited for use in tight spaces and for those who need to carry the weapon for long periods of time. It has been primarily designed for professional use, such as law enforcement and security, but is also popular for hunting and sport shooting.
Interesting facts
This shotgun is pump-action, meaning the shooter has to manually operate the pump handle to load a new round into the chamber and cock the hammer each time they want to fire. This differs from other types of shotguns, such as semi-automatic shotguns, which automatically load and fire the next round in the magazine after each shot.
The pump-action system, also known as slide-action, gives the shooter better control over each shot's timing, allowing him to fire more accurately. Plus, because the shooter is manually loading and chambering each round, they're less likely to fire more rounds than they intend to accidentally. This manual action is what makes the pump-action system so reliable. It's less complex than other shotguns, so it's less likely to malfunction.