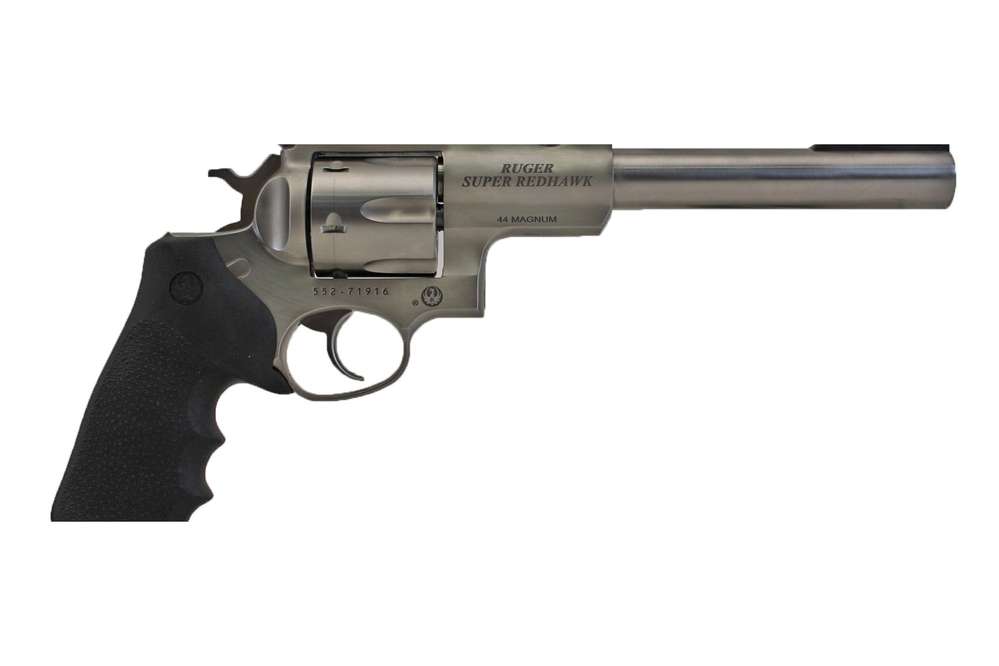 The Ruger Super Redhawk is a .44 Magnum double-action revolver introduced by Ruger in 1979. Ruger is a well-known and respected firearms manufacturer in the US with a long history of producing high-quality firearms known for their reliability, accuracy, and durability. The new revolver was designed to improve Ruger's earlier Redhawk revolver and features a longer barrel, more durable frame, and stronger cylinder. The Super Redhawk is versatile, with options for barrel length, finishes, and grip styles, making it suitable for hunting, self-defence, and target shooting.
Behaviour & construction
The Ruger Super Redhawk is a large, robust revolver with a heavy, smooth trigger pull that allows precise shot placement. It also has a transfer bar safety system to prevent accidental discharge if mishandled. Its stainless steel frame and cylinder provide excellent durability and resistance to corrosion, while the long, cold hammer-forged barrel improves accuracy and reduces recoil. The Super Redhawk is compatible with various optics and accessories, such as scopes and laser sights, and can be mounted on the integral scope base.
Fields of use
The Ruger Super Redhawk has been used by law enforcement officers, military personnel, and civilian shooters. Particularly popular among hunters for its power and accuracy when taking down large game animals. Today, it is still used by a variety of people, including hunters, competitive shooters, and gun enthusiasts, and is appreciated for its versatility and power. Some law enforcement agencies and military units use it, but it is not as widely adopted as other firearms.
Interesting facts
The Ruger Super Redhawk has appeared in several movies and TV shows. It is a popular choice among filmmakers and television producers because of its impressive size, rugged appearance, and reputation for power and accuracy. Some examples include Dirty Harry, The Good, the Bad and the Ugly, The Terminator, The Man with No Name Trilogy, Magnum Force, L.A. Confidential, The Wild Bunch, The Magnificent Seven, Tombstone, The Enforcer, The Outlaw Josey Wales, The Professionals, The Gunfighter, The Big Sleep, The Roosters, The Fan, The Front Runner, The Outlaw, The Seventh Seal and The Four Horsemen of the Apocalypse.
The Ruger Super Redhawk has also appeared in several video games like Resident Evil, Max Payne, Call of Duty, Far Cry, Battlefield, Wolfenstein, Doom, The Legend of Zelda, Metal Gear Solid, Grand Theft Auto, Halo, Mass Effect, Fallout, Deus Ex, Left 4 Dead, Borderlands, Gears of War, Red Dead Redemption, Half-Life, Assassin's Creed, Sniper Elite Nazi Zombie Army, Sniper Ghost Warrior and Sniper.